Secure Revenue with Predictive Revenue Intelligence by RevSystems
📸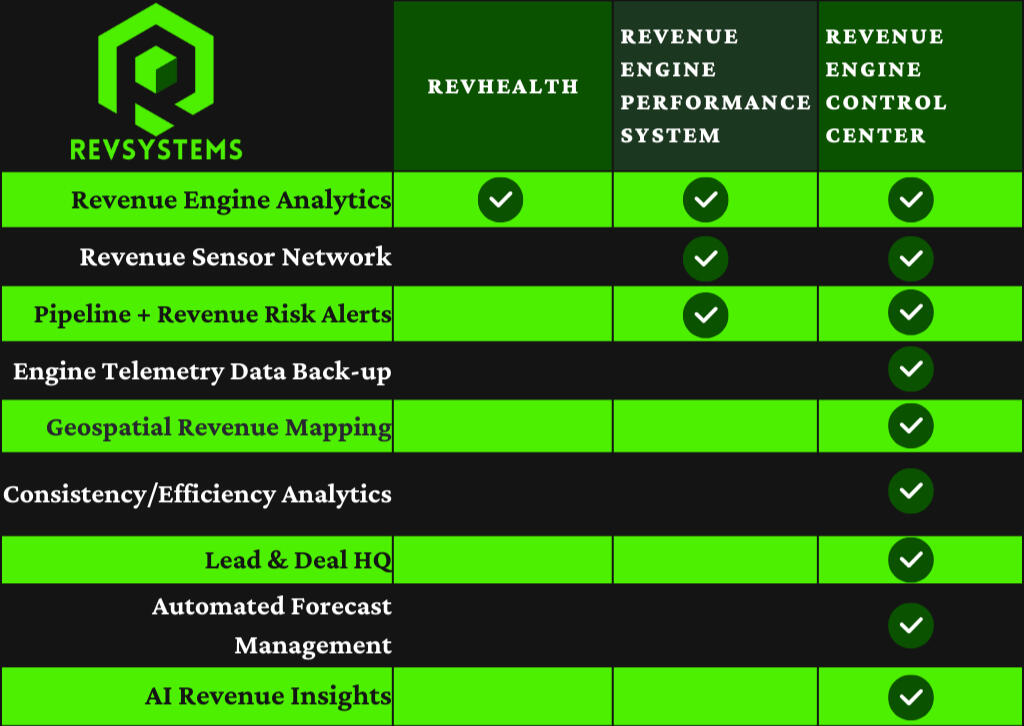 How We Help Companies Increase SalesRevenue is the byproduct of several processes that can be controlled, with data that can be observed and predicted.Why RevSystems?We help leaders securely increase sales with our
sensor > control > command revenue architecture.👇Early detection of weakness in predictive revenue indicators provides valuable time to increase sales and mitigate risks.
Revenue is Reliable with RevSystems
We enhance the consistency and predictability of revenue generation with our proprietary sensor fusion network.These sensors demonstrate:✅ What Is Working
𝘌𝘧𝘧𝘪𝘤𝘪𝘦𝘯𝘵 𝘢𝘤𝘵𝘪𝘷𝘪𝘵𝘪𝘦𝘴, 𝘤𝘢𝘮𝘱𝘢𝘪𝘨𝘯𝘴, 𝘳𝘦𝘨𝘪𝘰𝘯𝘴
& 𝘪𝘯𝘥𝘪𝘷𝘪𝘥𝘶𝘢𝘭 𝘤𝘰𝘯𝘵𝘳𝘪𝘣𝘶𝘵𝘰𝘳𝘴❌ What Isn't Working
𝘌𝘮𝘢𝘪𝘭𝘴, 𝘚𝘭𝘢𝘤𝘬 & 𝘚𝘔𝘚 𝘸𝘩𝘦𝘯𝘦𝘷𝘦𝘳 𝘙𝘦𝘷𝘦𝘯𝘶𝘦 𝘙𝘪𝘴𝘬𝘴
𝘢𝘳𝘦 𝘥𝘦𝘵𝘦𝘤𝘵𝘦𝘥 𝘰𝘳 𝘱𝘳𝘦𝘥𝘪𝘤𝘵𝘦𝘥RevSystems accelerates speed-to-value and return on investment from sales & marketing.
Revenue Insights +
Automated Alerts =
Early Warning System
Receive Slack, Email or SMS Alerts Predictive revenue intelligence straight to the Slack channels, inboxes and SMS of leaders.🌎 Where the Work is Happening
𝘓𝘰𝘤𝘢𝘵𝘪𝘰𝘯 𝘰𝘧 𝘵𝘩𝘦 𝘳𝘦𝘷𝘦𝘯𝘶𝘦 𝘵𝘦𝘢𝘮 𝘮𝘦𝘮𝘣𝘦𝘳
𝘭𝘰𝘨𝘨𝘪𝘯𝘨 𝘵𝘩𝘦 𝘢𝘤𝘵𝘪𝘷𝘪𝘵𝘺🌏 Where the Work is Directed
𝘓𝘰𝘤𝘢𝘵𝘪𝘰𝘯 𝘰𝘧 𝘵𝘩𝘦 𝘵𝘢𝘳𝘨𝘦𝘵 𝘰𝘧 𝘵𝘩𝘦 𝘢𝘤𝘵𝘪𝘷𝘪𝘵𝘺The best time to fix a problem is before it grossly impacts your operation.
"Check Engine" Light for Go-To-Market Machinery
CRM data is unified and transformed to deliver descriptive, predictive and causal analytics.✅ Pipeline Development
✅ Pipeline Conversion
✅ Pipeline Generation
✅ Team EngagementPipeline development pace and efficiency is the secret key to revenue effectiveness.
Revenue Leadership... Elevated to the Cloud
Where is our team focusing their energy, and how is that energy converting into pipeline and revenue?RevSystems deploys three software designs:1) Revenue Intelligence Agency
2) Revenue Security System
3) Revenue Command & ControlDrive growth with insights indicating engagement, efficiency and effectiveness of the revenue team.
All-Domain Data
Revenue Intelligence With Data FusionCustomer Relationship Management (CRM) and all "Tech Stack" fused into a unified Revenue Cloud.This is achieved by optimizing the data model to surface revenue engine performance and health telemetry.
Case Study:
Revenue Security System
RevSystems enhances the Salesforce CRM to enhance pipeline development & revenue team efficiency.Sensors built in Salesforce at key junctions in the User, Account & Opportunity object create visibility into pipeline development & conversion performance.
Case Study:
Revenue Intelligence Agency
Revenue engines are expensive. Sales and marketing expenses, technology, leadership bandwidth & other valuable resources.Maximizing return on investment from Salesforce CRM is made easier with systems designed to highlight operational inefficiencies of the revenue team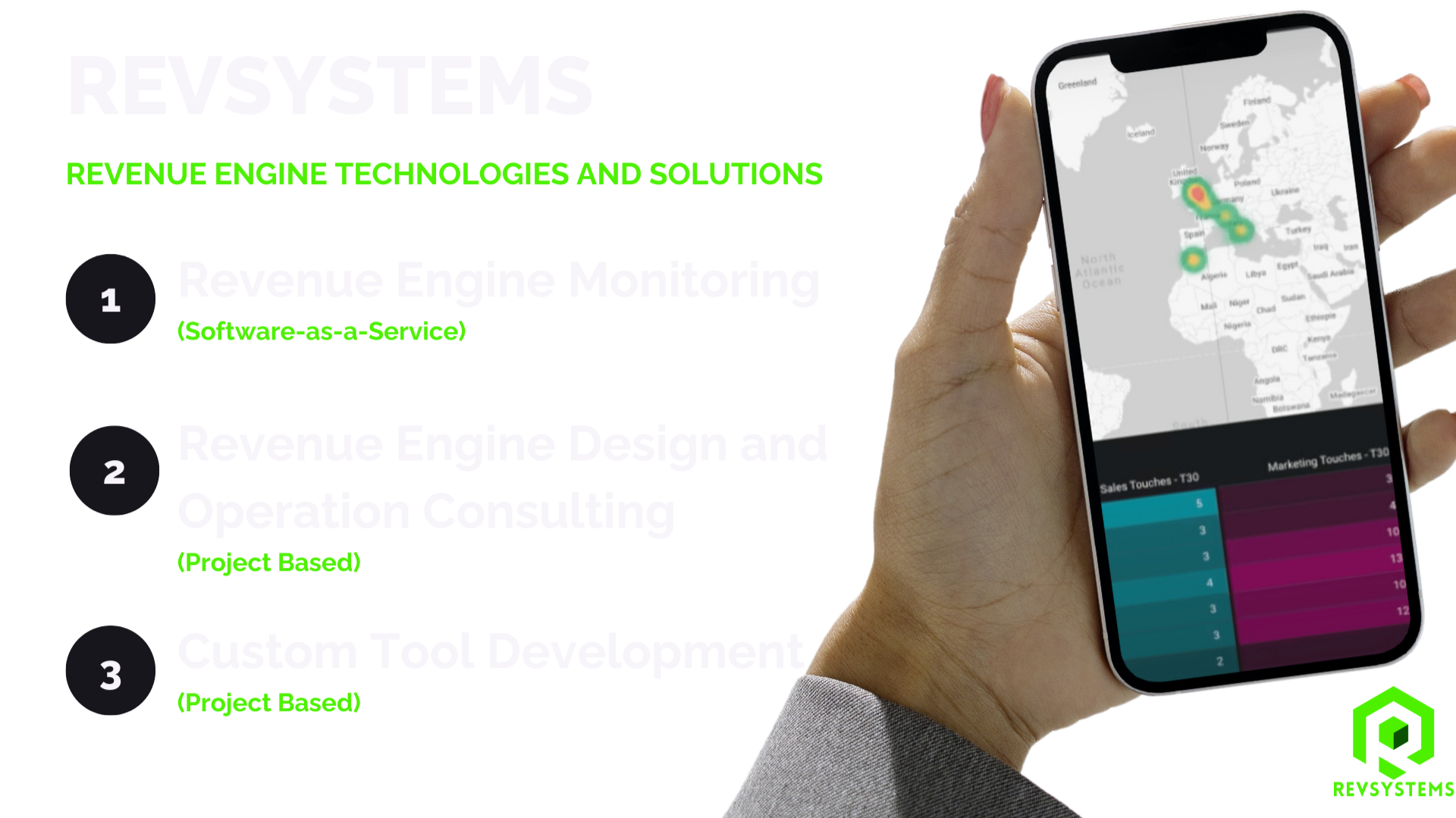 RevSystems
Press / Media
November 29, 2022:
"RevSystems deploys Revenue Sensor Networks inside of Customer Relationship Management (CRM) software. These sensors analyze predictive revenue intelligence for indications of pipeline generation and development weakness."
RevSystems
Press / Media
November 28, 2022:
"RevSystems delivers three (3) different systems designed to secure revenue and increase go-to-market operating efficiency."
RevSystems
Press / Media
November 15, 2022:
"RevSystems brings sensor fusion and data engineering to simplify revenue leadership. We help company leaders monitor what matters and guide their team toward effectiveness"
RevSystems
Press / Media
Oct 26, 2022:
"Creating opportunities and starting deals is vital. Actually progressing stages and elevating trust/engagement through focus on pipeline development is the key to B2B business."
RevSystems
Press / Media
October 17, 2022:
"We help companies understand the overlap between their sales and marketing teams. We automate flows of information around Salesforce. Our custom objects enhance visibility into sales team engagement and efficiency levels."
RevSystems
Press / Media
October 10, 2022:
"each system design is configured to maximize selling time and remove as much friction as possible from the go-to-market logistics. Our clients needs dictate the feel and focus. We re-engineer most data models around User and Account object, and then use APEX trigger/class combos to highlight the efficiency of the revenue engine"
RevSystems
Press / Media
Oct 4, 2022:
"Many of our clients use Salesforce CRM. We are laser-focused on enhancing the data model and UI design of Salesforce to enhance revenue generation and retention"
RevSystems
Press / Media
October 5, 2022:
"We enhance the Salesforce CRM through a process called Revenue Engineering that optimizes the data model & user interfaces to maximize revenue team engagement."
RevSystems
Press / Media
September 4, 2022:
"RevSystems is the product of more than 15-years of data engineering, data science and machine learning fusion."
RevSystems
Press / Media
Oct 1, 2022:
"RevSystems creates that strategic layer connecting the daily tactics with the broader quarterly and annual sales goals, revenue retention watermarks, operating efficiency readouts - whatever your North Star for success looks like".
RevSystems
Press / Media
September 30, 2022:
They come to us asking for enhancements to the data model, the APEX trigger/class architecture and other structural upgrades to enhance their revenue engine and go-to-market machinery"
RevSystems
Press / Media
September 26, 2022:
"RevSystems, LLC Founder Matt McDonagh recently announced his cloud architecture and software development firm is hosting their first International Expansion into Australia."
RevSystems
Press / Media
September 22, 2022:
"Machine Learning Has Escaped Big Tech, Now Being Used by SaaS, Financial Services and VC"
RevSystems
Press / Media
September 16, 2022:
"Private Investors Gaining Access to the CRM Data and Key Information from New Private Revenue Clouds"
RevSystems
Press / Media
September 12, 2022:
"Matt McDonagh's Newest Revenue Technology Firm, RevSystems, Gains Traction at SALT Conference NYC"
RevSystems
Press / Media
August 17, 2022:
"Fused all-source revenue intelligence with unique visualizations and automations that maintain laser-focus on leading indicators."
RevSystems
Press / Media
August 10, 2022:
"There is a real need for simplicity, focus and efficiency... that is precisely what RevSystems is delivering for our clients".
RevSystems
Press / Media
July 21, 2022:
"The 4.3x leap in forecasting accuracy was achieved by a novel machine learning model engineered by Matt McDonagh leveraging Bayesian inference combined with ensemble learning."
2022 © RevSystems, LLC a DE limited liability company. All rights reserved.